By October, it is time to spend a lot of Thank You Cards, holiday cards, and emails with our family and friends. At this time, how to purchase a large number of stamps most cheaply is the key. So here comes the question, book of stamps vs roll of stamps: which is the cheapest way to buy?
How Many Stamps Were There in the Book of Stamp?
The book of the stamp is a booklet made up of one or more small panes of postage stamps on a cardboard cover. Postage Stamps are still used to mail letters in today's world.
The Stamps Booklets
are one of the major things that everybody who sends and receives letters or postal mail should be aware of. The stamp booklet is also known as a book of stamps. Stamp booklets were first released on April 16, 1900. However, nowadays, anybody can purchase a stamp book easily and get all of the stamps issued by the USPS. In
the Stamp Book
cost that contains all of the essential stamps, there are over 20 stamps.
How Much Do I Need To Pay For a Stamp Book?
Generally speaking, each stamp book consists of 20 postal stamps. Most of the time, the cost of forever postage stamps is the same as the cost of first-class stamps. In other words, no matter whether you bought a forever stamps booklet or a first-class
stamps booklet
, the stamps books were all the same. In 2022, you'll have to pay $0.6*20 = $12 for the forever stamp book. I would recommend everyone to buy forever stamps, for the reason why is that they may be used at any time since they have no expiration date.
How Many Stamps Were There in the Roll of Stamp?
According to the USPS, the first coil (roll) stamps were issued on February 18, 1908, in response to business requests. Coils were also used in stamp vending equipment. From this sentence, we can clearly know that the main target customers of this form of stamp sales are group-buying customers who have a large demand for enterprises, groups, etc., rather than individuals. Then according to different types of stamps, their prices are also different.
This requires you to always make sure that you have confirmed the quantity and type of postage (first-class stamp, second class Stamps, postcard stamps, etc.) you read before placing an order to ensure you are getting a fair deal. You can buy a variety of different designs, so pick up some pretty stamps for the upcoming holidays. But if something is cheaper, usually for good reason, you may have misread the stamp number or postage type.
What Does A Roll Of First Class Stamps/Forever Stamps Cost In 2022?
Starting in 2022, the price of first-class and forever stamps will increase from 0.58 cents to 0.6 cents apiece. A roll (coil) of stamps will contain anywhere from 20 to 10,000 stamps, and you can go to USPS.com and see that the price of a roll of stamps will range from $12 to $6,000.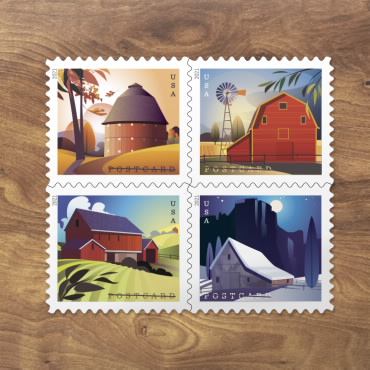 What does a roll of postcard stamps cost in 2022?
On some holidays you want to send some postcards to your family and friends to convey the joy of the holiday, so buying postcard stamps directly will be more cost-effective than buying standard first-class stamps.
44 cents per postcard stamp in 2022. You can buy a roll of 100 postcard stamps from USPS for $44, or choose from as few as 20 postcard stamps. However, these should only be used on postcards and should not be placed on standard letters.
Postcard stamps were previously 40 cents, an increase of 4 cents from before and a bigger increase than first-class stamps. However, they're still economical and a better option if you're just sending postcards.
Is it cheaper to buy stamps by the roll or is it cheaper to buy stamps by booklet?
Buying a roll of stamps or even subscribing to a roll is often the most convenient option if you need to mail letters regularly and in bulk. If you buy stamps from USPS.com, no matter what form you buy, it's not the cheapest because it's based on the type and quantity of stamps you buy, not the form. If you run a business, buying stamps by roll saves you time and effort and ensures you always have stamps on hand.